By Retail Insider
Cath Kidston Prepares to Enter Canadian Market: London UK-based lifestyle brand Cath Kidston is looking to enter Canada by opening stores, making it the latest international brand looking to enter the market. Cath Kidston sells a range of moderately-priced 'modern vintage' designs including women's and kid's fashions as well as accessories and home goods. The brand is known particularly for its nostalgic floral patterns and its designer, Catherine Kidston, has also published several books.
The Cath Kidston brand was founded in 1993 with a single store in London's Holland Park area, selling hand-embroidered tea towels and brightly renovated furniture. The brand has seen remarkable success and now has more than 200 stores globally including in the UK, Ireland, Asian and the Middle East. Cath Kidston currently does not operate locations in the United States, which means Canada could see the first Cath Kidston location in North America.
In Canada, Cath Kidston is working with brokerage Aurora Realty Consultants, and is seeking retail spaces in the 800 to 1,200 square foot range in large enclosed malls. This fall, Cath Kidston will open three pop-up retail locations in the Toronto Area.
La Maison Simons Opens 1st Standalone Home Store: Retail Insider was recently in Montreal and visited the first standalone home furnishings retail space for large-format fashion retailer La Maison Simons. The 4,800 square foot 'Simons Maison' is contained on the lower level of the 200,000 square foot Carrefour Industrielle Alliance complex at 977 Ste-Catherine Street West in downtown Montreal, which houses a multi-level La Maison Simons fashion flagship store upstairs from the new standalone home store. Designstead was behind the design of the new Simons home store.
Simons relocated its homewares department as it expands other departments in its busy downtown Montreal flagship store, which is expected to see renovations. The store's historical facade is already seeing updates including new awnings, updated lighting fixtures and revolving doors. The Carrefour Industrielle Alliance complex was formerly a Simpson's department store which was built in 1928, and now houses Simons as well as a cinema, boutiques and restaurants that are connected to neighbouring shopping centres via underground walkways.
Over the past seven years, La Maison Simons has been expanding its store operations nationally. In October of 2012 the retailer opened its first store outside of Quebec at West Edmonton Mall. Simons now operates stores in the metro regions of Vancouver, Edmonton, Calgary, Toronto, Ottawa, Montreal and Quebec City.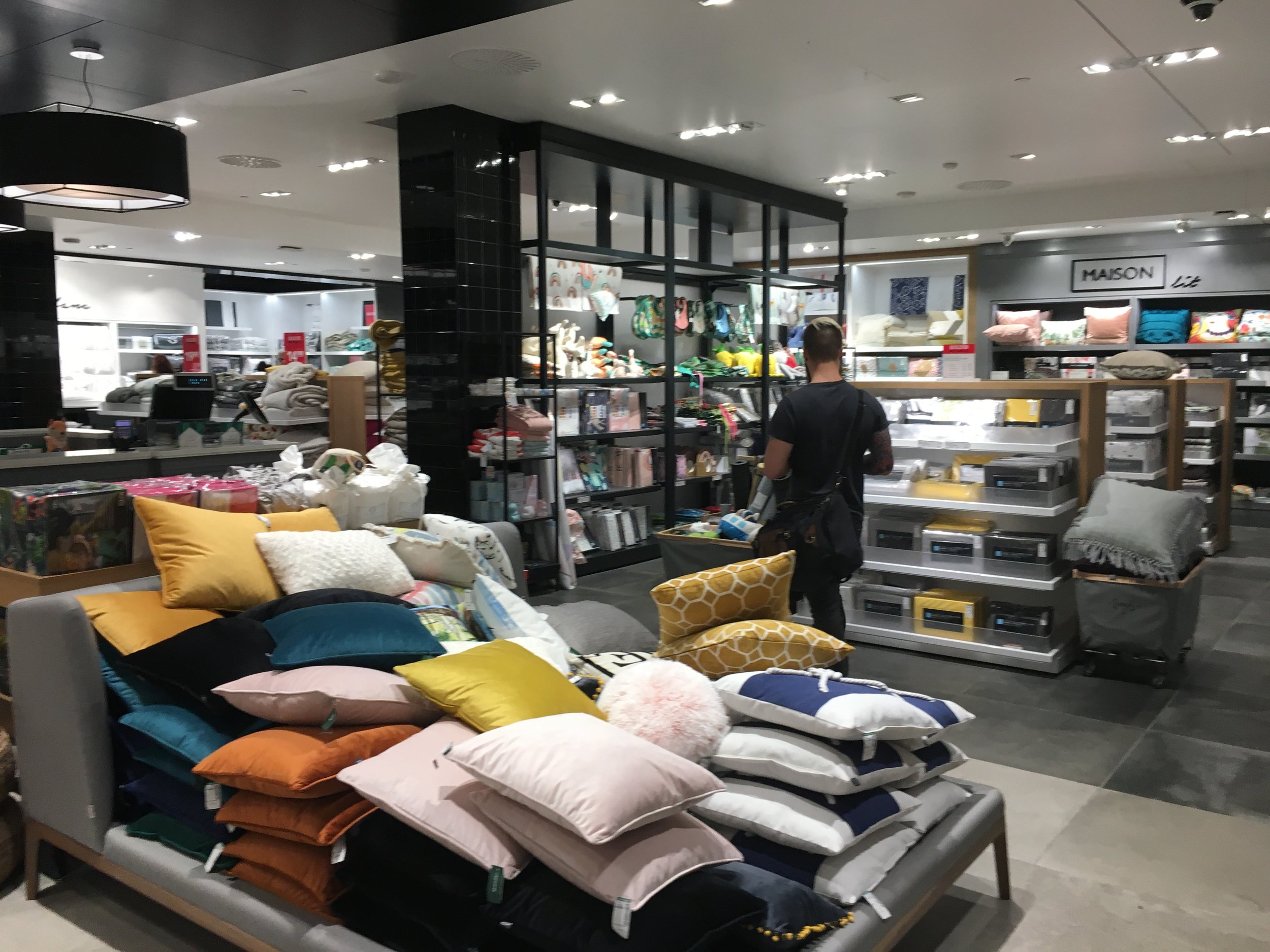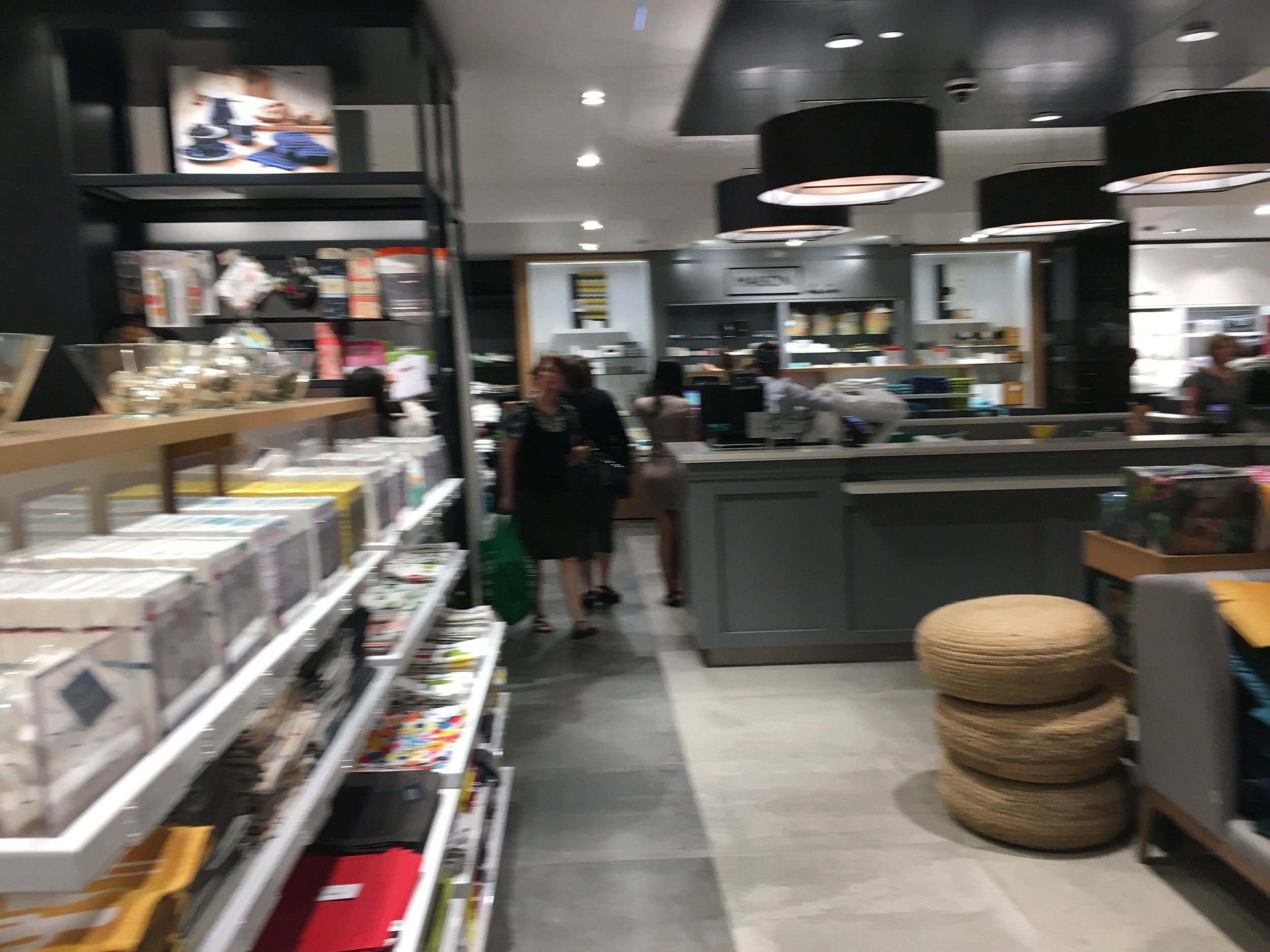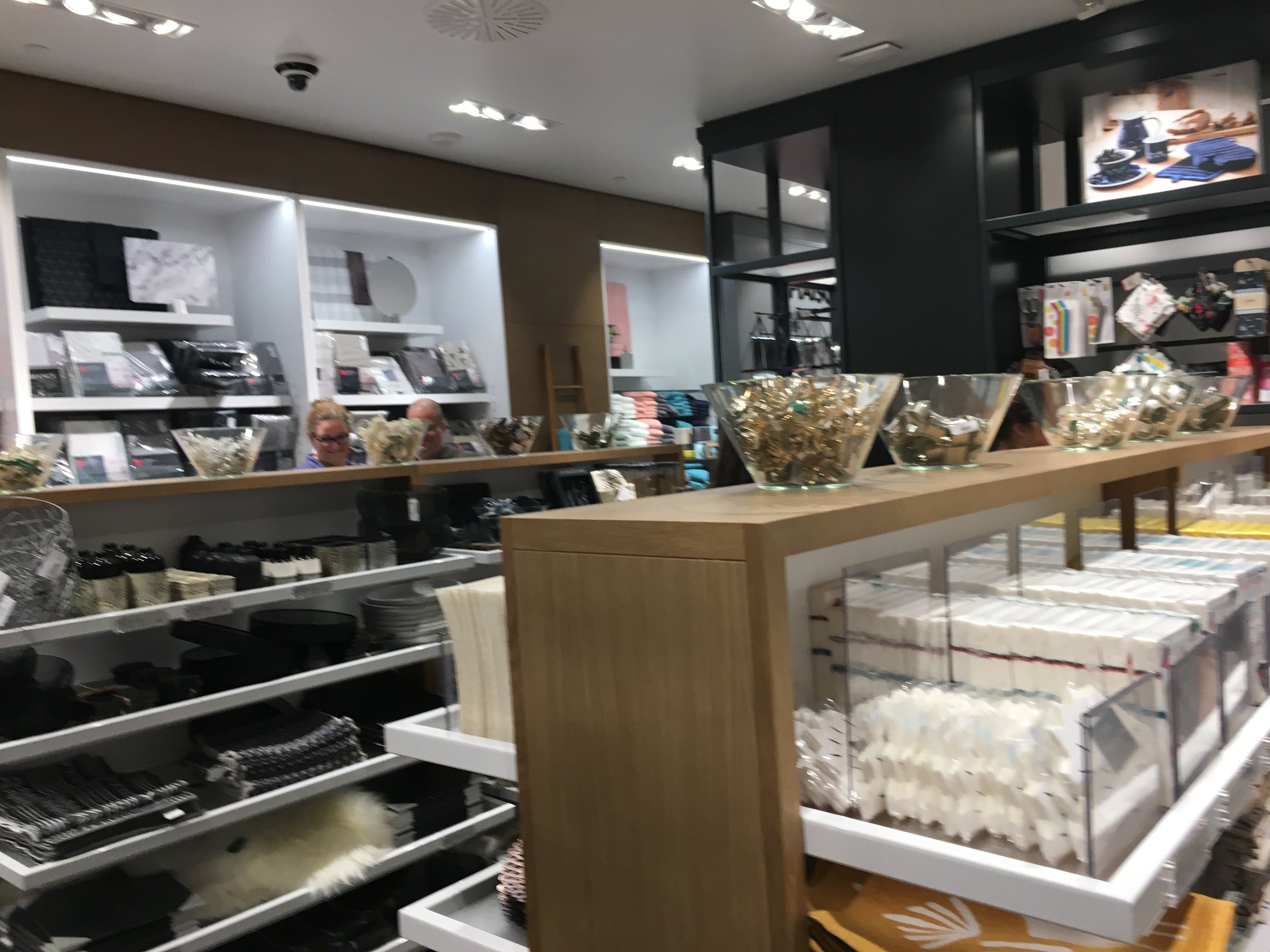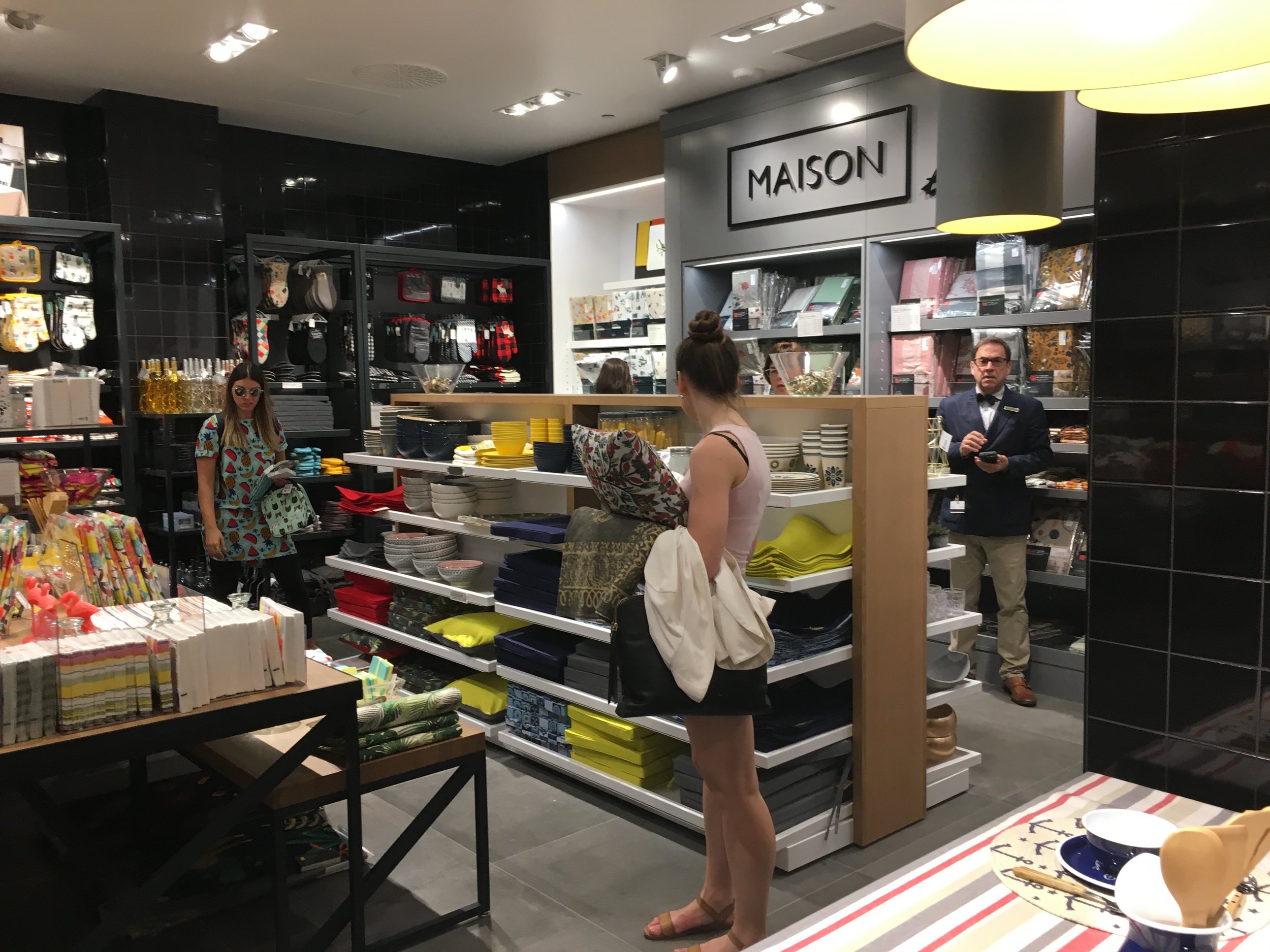 Louis Vuitton Sets Foot into Montreal's Holt Renfrew for the First Time, and a Short Time: Last month, Louis Vuitton relocated its Montreal concession to Holt Renfrew's 1300 Sherbrooke Street West store in Montreal for the first time. Prior to that, Vuitton occupied space in Ogilvy on Ste-Catherine Street, where is has had a presence since 1989.
The Sherbrooke Street Louis Vuitton pop-up occupies the northern half of the historic Holt Renfrew building in a large space formerly occupied by beauty and cosmetics. It is accessed directly from Holt Renfrew's main entrance at 1300 Sherbrooke Street West. Despite being a pop-up, the Louis Vuitton space features an impressive high-quality design with ample use of wood cut-outs and expansive branding for the space. Toronto-based dkstudio designed the pop-up and Montreal-based Planit Construction, known for its exceptional work both in Canada as well as in the United States, built-out the Louis Vuitton shop.
Louis Vuitton will relocate into the new 'Holt Renfrew Ogilvy' in a few months once renovations there are completed. Holt Renfrew Ogilvy, which recently unveiled a 25,000 square foot concourse-level beauty hall as well as a 40,000 square foot men's store on its fourth level, continues to be renovated. Next spring, the 250,000 square foot Holt Renfrew Ogilvy building at 1307 Ste-Catherine West will become the largest in the Holt Renfrew chain. Next spring, as well, the 1300 Sherbrooke Street West Holt Renfrew store, which opened in 1937, will close permanently.
Michael Kors Opening Massive Montreal Flagship: Canada's largest Michael Kors store will be opening soon in downtown Montreal. The three-level store will even feature a restaurant, and will be located at 1133 Ste-Catherine Street West at the corner of Stanley Street.
While it's unclear how much space will be dedicated to retail, the building Michael Kors will locate in spans approximately 12,000 square feet over three levels. No other Michael Kors store in Canada even comes close in terms of size — the Yorkdale Shopping Centre flagship in Toronto, which we profiled last year in Retail Insider after it saw an impressive renovation, is the largest in the country spaning just over 5,700 square feet on one level.
We'll update this story once details on the Montreal flagship are released. We have yet to receive a response from the retailer's PR team after requesting information.
Brokerage Oberfeld Snowcap represents Michael Kors in Canada [Oberfeld Snowcap Michael Kors contact page]
Richard Mille Unveils Vancouver Storefront: One of the world's priciest watch brands, Richard Mille, saw the opening of a partner-owned storefront at jeweller Maison Birks' downtown Vancouver flagship located at 698 West Hastings Street. The Richard Mille boutique opened earlier this year and last week, a new branded doorway was unveiled facing onto Granville Street, which involved modifying the exterior of the large heritage building that was once a bank.
It's the second Richard Mille boutique for Canada. In 2017, Toronto jewellery retailer Louis Black opened a Richard Mille boutique in the Hazelton Hotel on Yorkville Avenue, which it soon relocated to a large second-level space at 135 Yorkville Avenue. Both the Toronto and Vancouver Richard Mille boutiques only carry a few timepieces in their stores — some styles are known to sell out despite prices usually being in the hundreds of thousands of dollars. Some styles have been known to sell for well over $1-million.
Montreal-based Maison Birks has been updating its operations in Canada, including dedicating more space to shop-in-stores for various brands. Several months ago Birks reopened its impressive Bloor Street flagship in Toronto and last summer, it unveiled a stunning renovated historic downtown Montreal flagship that also includes an adjacent restaurant and boutique hotel in the same building. The Vancouver store is expected to see further renovations as Birks modernizes its flagships with a design in line with a Millennial-targeted concept storefront at Toronto's Yorkdale Shopping Centre that opened in the fall of 2016.
Ontario Science Centre hosts its first-ever pop-up shop: Toronto-based turnkey pop-up shop activators, pop-up go, teamed up with Indigenous artist James Simon Mishibinijima of Manitoulin Island to launch the first-ever short-term retail activation at the Ontario Science Centre last week. The installation ran from June 27 – July 4 in the Centre's Common Area space, where visitors could view the pop-up free of charge.
The pop-up exhibit featured a retail component as visitors could purchase a wide selection of the artist's work from original pieces to prints and books. Mishibinijima is an Ojibway artist whose works often depict natural scenery and urge onlookers to respect and nourish the world around them. The Science Centre pop-up was his second short-term retail activation following one in Whitby in 2018.
The pop-up was the first activation of what pop-up go projects to be a busy summer for short-term retail installations at the Ontario Science Centre. Due to the Centre's heavy summer foot traffic and primary demographic of children and families, the location is ideally suited for brands looking to get their product out to the masses in Ontario this summer.
Mobile Klinik Acquires Device Care: Canada's leading walk-in device repair retailer has announced the acquisition of Device Care – a smartphone accessories and repair chain with six locations in Ontario and Québec. Mobile Klinik has 52 locations across Canada and offers no-appointment-needed, professional smartphone and tablet repair.
As part of the acquisition, Mobile Klinik will maintain the following existing Device Care locations:
Dawood Shahid, Device Care's Managing Director, added "We are excited about the growth opportunities that joining the Mobile Klinik team will provide to our store managers and associates – being part of a large and growing national network will give all the Device Care team members room to learn, contribute and grow that we would not have been able to achieve on our own. Mobile Klinik is the clear leader in the Canadian market and our people are excited about joining the winning team."
The company intends to expand both the Mobile Klinik and Device Care brands to push forward their vision of providing Canadians with the best smartphone and tablet repair, care, sales, and services. By joining forces, Mobile Klinik and Device Care will be able to offer more products and services than any other retailer of its kind.
Mobile Klinik works with brokerage Oberfeld Snowcap for its real estate needs.
GEE Beauty Opens 1st Muskoka Pop-Up Store: The popular Toronto-based store has opened their first pop-up in scenic Muskoka, ON. The cottage country shop will be open until July 15th, 2019 and features a selection of beauty and fashion items. Located in the Dukes Building at 2 James Bartleman Way in Port Carling, ON, shoppers will find it between Lakes Muskoka and Rosseau.
Those who call Muskoka home all summer long can pop in to Gee Beauty to receive all of their favourite treatments and services like: brow and lash treatments, express facials, and makeup applications for your most important dock parties. Shoppers can also stock up on products from brands like: Goop, Le Labo, Xirena, and GEE Beauty's private label collection.
GEE Beauty operates a storefront in Toronto's Rosedale area at the corner of Roxborough Street West and Yonge Street, with an adjacent lifestyle shop called 6 by GEE Beauty. The retailer also has a storefront in Miami Beach, Florida.
Nordstrom Hosting Anniversary Sale as it Launches Pop-Ups: Seattle-based Nordstrom, which entered the Canadian market in 2014 with its first store in Calgary, is holding its Anniversary Sale on July 19 (starting at 12:30pm EST) and it continues through to August 4. Once it's over, prices go up again on August 5. Nordstrom says that it's the largest fashion sale of the year for Nordstrom's mainline stores, and 'Nordy Club Ambassadors' are able to shop earlier. Rather than holding seemingly continuous sales like competitor Hudson's Bay, Nordstrom hosts a handful of events and otherwise clears out product in its Nordstrom Rack stores. Nordstrom Rack has six stores in Canada with three in the Greater Toronto Area and one each in Edmonton, Calgary and Ottawa.
The Anniversary Sale is being marketed by a campaign featuring a bright and open art gallery studio, and a high-energy, diverse mix of professional dancers and models. The cast dances to the 1979 underground funk/disco classic "Get Up" by Vernon Burch, which was re-worked by DJ Premier. On Saturday, July 20, Nordstrom is hosting an Anniversary Sale Beauty Bash event in all stores.
This month, as well, Nordstrom launched new pop-ups in its CF Toronto Eaton Centre flagship as well as its CF Pacific Centre flagship in Vancouver. Called 'Powers Up!', the pop-ups feature a curation of more than 250 tech-themed products. The main floor pop-up spaces, called 'Pop-In@Nordstrom Powers Up' is stocked with innovations, accessories with options ranging from $6.50 to $975. Nordstrom regularly hosts pop-ups in the Vancouver and Toronto flagships to keep things fresh, which is a trend seen in some of the top department stores globally.