By Craig Patterson
Upscale German fashion brand Hugo Boss has officially relocated its Canadian flagship from Toronto's 'Mink Mile' to the Yorkdale Shopping Centre. The new Yorkdale store showcases Hugo Boss' latest store design which is being rolled out globally in new and renovated locations.
The new Yorkdale Hugo Boss flagship occupies a space spanning nearly 6,650 square feet in the mall's 2012 expansion wing which has recently seen the addition of several new luxury brand stores. A total of 5,766 square feet of the new Hugo Boss store is dedicated to retail space, according to the company.
The new Yorkdale flagship replaces a smaller Hugo Boss storefront that operated nearby for about seven years, measuring nearly 4,700 square feet in total. Last week, we reported that French luxury brand Balenciaga would be moving into the former Hugo Boss space with an anticipated opening date in December of this year, neighbouring recently opened flagships for Valentino and Bottega Veneta, as well as across from an expanded Holt Renfrew flagship that includes mall-facing 'world of' concessions for brands including Gucci, Fendi and Dior.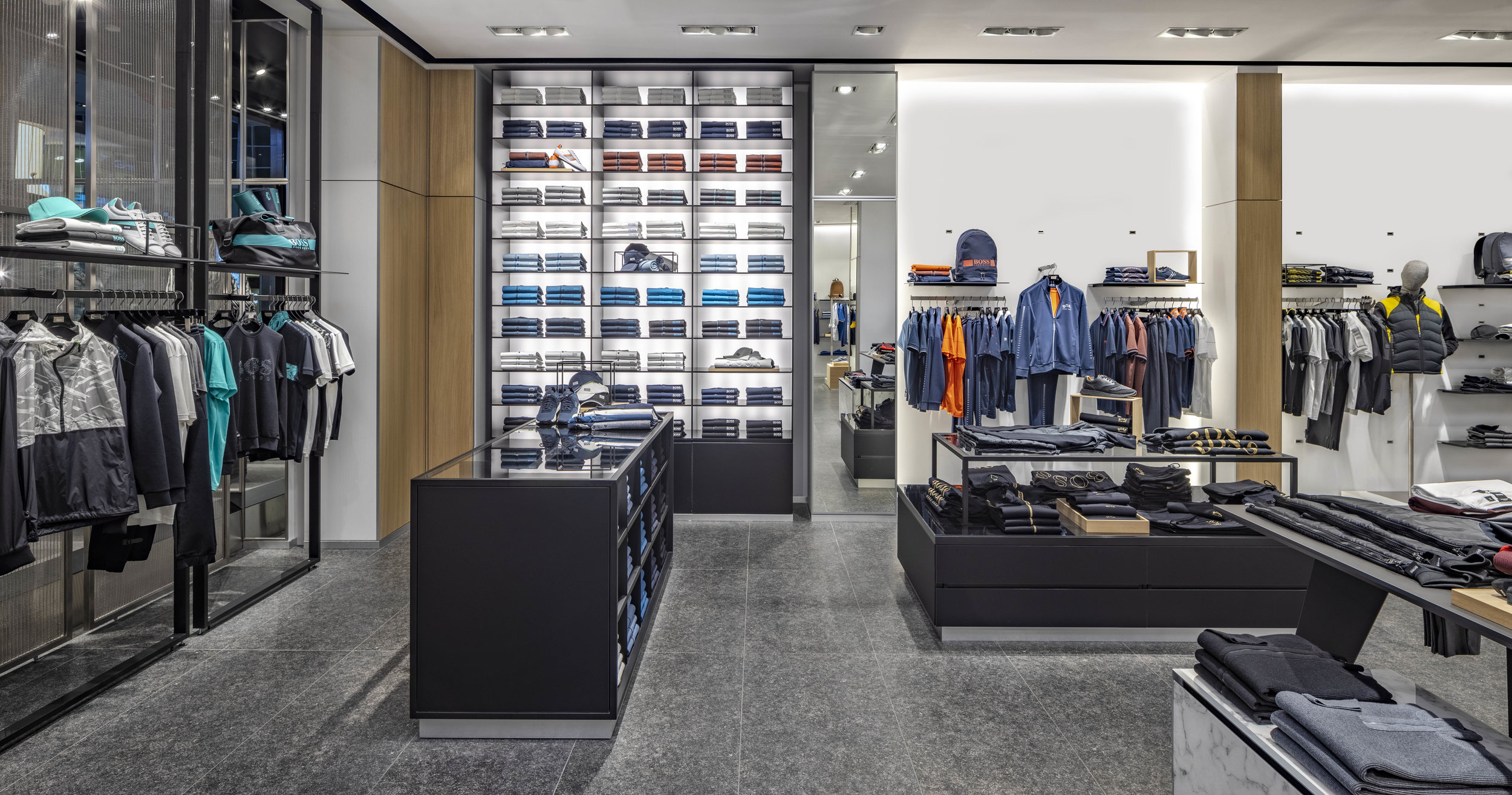 The new Yorkdale Hugo Boss flagship carries an expansive assortment of Hugo Boss fashions for both men and women including ready-to-wear, footwear, accessories and leather goods, including the latest fall/winter 2019 collections that also include the brand's 'Runway Capsule'.
The store's design features a brighter aesthetic with ample use of wood — Hugo Boss says that it sought to create a "warm and residential feel" by using materials to create "an inviting yet refined ambiance". The furniture and fixtures in the new store were designed with clean lines and arranged to showcase the product itself.
In an effort to make guests feel comfortable, seating areas can be found throughout the store. The light wood walls contrast with granite flooring and grey carpeting in some areas. Modern elements include digital LED screens showcasing brand-related campaign videos and fashion shows.
The new Yorkdale Hugo Boss flagship replaces the brand's former Canadian flagship that once operated at 83 Bloor Street West in Toronto's famed 'Mink Mile'. That Hugo Boss store occupied a building encompassing 13,900 square feet over four floors, including a basement level. The three above-grade retail floors spanned about 10,300 square feet with each level measuring about 3,500 square feet.
The former Mink Mile Hugo Boss flagship closed in January of this year after a nine-year run in the standalone building that stood between Sephora and COS, and across from luxury menswear retailer Harry Rosen. The Bloor Street Boss flagship opened to much fanfare in December of 2009 in a prominent three-level building that has housed a variety of tenants over the years. As of September 2019, the former Hugo Boss space is being used as a luxury clearance centre for a well-known local retailer while brokerage CBRE looks to lease the building to a new retail tenant.
Toronto's stretch of Bloor Street West between Yonge Street and Avenue Road is seeing a transformation that includes the addition of some of the world's biggest brand names. Any day now, luxury brand Christian Dior will officially open its largest flagship in North America at The Colonnade, joining luxury brand flagships for the likes of Hermes, Gucci, Tiffany & Co., Prada and Louis Vuitton. Brokers and other sources confirm that the area is expected to see a flurry of leasing activity after the opening of Eataly at Manulife Centre at 55 Bloor Street West, as well as the completion of the Holt Renfrew flagship at 50 Bloor Street West next spring. We'll be reporting more extensively on Bloor-Yorkville's retail transformation in the days and weeks to come.
Hugo Boss also recently closed its West Edmonton Mall store temporarily for a renovation. Its interior is now similar to that of the new Yorkdale Boss flagship.
Now located in Toronto, Craig is a retail analyst and consultant at the Retail Council of Canada. He's also the Director of Applied Research at the University of Alberta School of Retailing in Edmonton. He has studied the Canadian retail landscape for the past 25 years and he holds Bachelor of Commerce and Bachelor of Laws Degrees. He is also President & CEO of Vancouver-based Retail Insider Media Ltd. Email Craig: craig@retail-insider.com