J. Crew Shuts All But One Store in Canada
And then there was one: American fashion retailer J. Crew is shutting down two of its remaining three stores in Canada, possibly signalling the end of the brand's full-priced physical stores in this country.
A sign on the door of the J. Crew store at 110 Bloor Street West in Toronto said that the store will be shutting down permanently on Saturday, September 26. However on Wednesday September 23, the store was already shut with its windows papered over. In Vancouver, a sign at the J. Crew store at 1088 Robson Street said that the store will close on September 28. After both are closed, the only remaining full-priced J. Crew store in Canada will be located at Toronto's Yorkdale Shopping Centre. A Yorkdale store employee says they're not aware of any plans to close that unit as of yet.
Yorkdale is where J. Crew got started in Canada when the retailer opened a store there in 2011. For years, J. Crew operated a small network of stores in Canada in markets including Vancouver, Edmonton, Calgary, Toronto, and Ottawa. A store at West Edmonton Mall closed several years ago and more recently in 2018, units at CF Rideau Centre and CF Chinook Centre in Ottawa also shuttered. Other J. Crew units that closed included at CF Fairview and CF Markville in Toronto, CF Market Mall in Calgary and CF Sherway Gardens in Toronto. A store at CF Toronto Eaton Centre shut down in early 2019 after having opened seven years prior.
J. Crew continues to operate five* outlet stores in Canada including at McArthurGlen Designer Outlets in Vancouver, Vaughan Mills near Toronto, Toronto Premium Outlets in Halton Hills, Outlet Collection at Niagara near Niagara Falls, and at Tanger Outlets in Ottawa.
In the spring J. Crew filed for bankruptcy protection. We had expected the company to announce an exit from Canada, which in theory could still happen.
*We've been informed that the South Edmonton Common location has closed, and others may have as well.
Lululemon Expanding Robson Street Flagship in Vancouver
Canadian athleisure brand Lululemon is expanding its flagship store in downtown Vancouver by annexing a space vacated by Australian footwear brand UGG. Lululemon will grow its 4,400-square-foot store by an additional 2,500 square feet at 970 Robson Street with the expansion.
Lululemon opened the Vancouver flagship store, occupying the prominent corner of Robson and Burrard Streets, in 2014. Taking over the UGG space will give Lululemon more than 100 feet of linear frontage along Robson Street between Burrard Street and a laneway. Retailers across the street include Victoria's Secret, Clearly, and Tesla. Luxury brand Salvatore Ferragamo occupies the same block at 918 Robson Street.
CBRE Vancouver's retail team negotiated the lease deal under the direction of Mario Negris and Martin Moriarty.
Lululemon is opening and expanding stores despite the pandemic. In places such as Richmond BC, Lululemon is relocating its store to a space once occupied by Victoria's Secret, for example.
Nordstrom Shuts Main Floor Luxury Brand Boutiques in Downtown Toronto
The 220,000-square-foot Nordstrom store at CF Toronto Eaton Centre opened four years ago this month. Until last week, the main floor featured boutique spaces for Gucci, Burberry, Loewe, Stella McCartney, and Miu Miu.
This week, the three adjacent spaces for Loewe, Stella McCartney, and Miu Miu were boarded over with the brands' bags being moved to the open floor. Staff in the store said they're not yet sure what will happen to the three spaces. One sales associate said that she suspected new brands could be brought into the space. A sales associate at Gucci speculated that the spaces could be dedicated to leased brands as with Gucci, which is a concession.
Upstairs in the downtown Toronto Nordstrom store, women's boutiques for luxury brands Lanvin, Loewe and Stella McCartney have also closed since Nordstrom's opening in 2016. Boutiques for Moncler and Burberry remain, and last year a Max Mara fashion boutique was also added.
Nordstrom's Yorkdale store in Toronto as well as the retailer's Vancouver flagship both feature at least six luxury brand accessory boutiques each.
We'll report back when we learn more.
Balenciaga Opens Montreal Women's Concession
Luxury brand Balenciaga unveiled an impressive boutique space at Holt Renfrew Ogilvy in Montreal. The concession features the updated Balenciaga store design which includes carpeting with the word 'Balenciaga' printed throughout.
What's interesting about the carpeting is an artisan actually hand-carved each logo — a labour intensive process. Hence the pattern on the carpets in Balenciaga stores aren't completely uniform as they're human-made.
PHOTOS OF NEW BALENCIAGA WOMEN'S CONCESSION AT HOLT RENFREW OGILVY. PHOTOS: MAXIME FRECHETTE
The Balenciaga boutique is located on the third floor of Holt Renfrew Ogilvy, which houses some of the world's leading luxury brands in a series of boutiques. Several of these are leased spaces operated by the brands. We recently profiled the completed Holt Renfrew Ogilvy store in an article.
Last year Balenciaga opened a men's concession space on the fourth floor of Holt Renfrew Ogilvy in Montreal. We profiled the men's floor last year in an article as well.
Balenciaga operates a standalone flagship store at Toronto's Yorkdale Shopping Centre which opened last year. The brand also operates 'world of' concessions at Holt Renfrew stores at 50 Bloor Street West in Toronto as well as at Holt Renfrew in Vancouver. The 'world of' boutiques carry a full range of men's and women's ready-to-wear as well as bags, shoes, and accessories. Balenciaga is also carried at Saks Fifth Avenue in Toronto and at Nordstrom in Vancouver.
Pusateri's at Saks Shut Until 2021
The Pusateri's Fine Foods food hall at Saks Fifth Avenue in downtown Toronto has delayed its reopening until January 2021. A lack of foot traffic in downtown Toronto is said to be one of the reasons for keeping the 18,000-square-foot food emporium shuttered.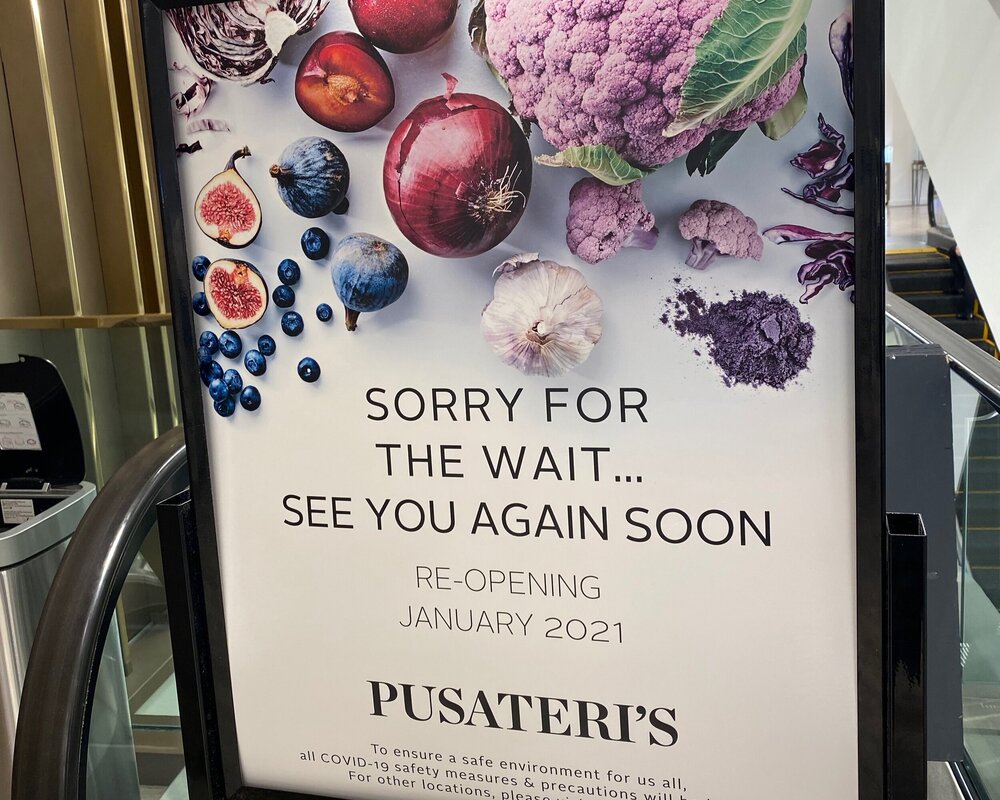 The Saks food hall by Pusateri's opened in November of 2016 directly under the Saks Fifth Avenue flagship store located at the east end of the Hudson's Bay Building on Queen Street, which is part of CF Toronto Eaton Centre. The Saks food hall includes groceries as well as restaurant and concession food vendors. The environment is beautiful with bright lights and pricey fixtures, creating an elevated experience.
Prior to COVID-19, more than 50,000 people would pass by the basement level Saks food hall daily. The location is strategic, being next to the Queen Street TTC subway station with underground access to several major office towers nearby. Given that only about 10% of office workers have returned downtown, the area is said to be quiet even during lunch hours. By November, Restaurants Canada predicts 60% of restaurants in Canada will have shut permanently due to the pandemic.
Family-Owned Zadel Jewellery Studio Plants Roots Amid COVID-19 Pandemic
Husband and wife team, Johan and Adele, have more than 70 years of combined experience in the jewellery industry, and now, what started 1o years ago as a modest at-home workshop, has turned into a beautiful jewellery studio on Vancouver's Granville Island.
Zadel Jewellery Studio opened at 1808 Boatlift Lane on Granville Island on September 5 and curates Canadian jewellery designers to give them a platform to showcase their art. The studio is comprehensively kitted out, requiring no outside intervention, meaning all manufacturing, repairs, setting, and casting production are done on the premises. The couple — who are originally from Johannesburg, South Africa — have spent many years servicing the surrounding neighbourhood with their unique jewellery designs and vast expertise in the field.
"We strive to make each piece of jewellery as near as possible to perfection with the special attention to the finest detail. The quality of each manufactured piece of jewellery is guaranteed, and the total satisfaction of each and every client is of the utmost importance. Nothing is left to chance, and every step is carefully planned and fulfilled…Our design style has settled to a refined symmetrical style of jewellery, emphasis being on clean lines and highlighted stones."
The recent COVID-19 pandemic didn't hold Zadel back as the studio pushed forward with the expansion.
To learn more about Zadel Jewellery Studio go to zadeljewellerystudio.com or visit the new studio at 1808 Boatlift Lane on Granville Island in Vancouver.
Vancouver-Based ChopValue Launches SMĪLE
Four years after its official founding, Vancouver-based award-winning green startup, ChopValue, have announced the launch of SMĪLE — the only climate positive modular shelving system made of 4,276 recycled chopsticks.
"When launching ChopValue, our mission was to make a change with one chopstick at a time. Today, I am excited to announce our new achievement towards that goal — SMĪLE. We've designed SMĪLE to prove that minimalist, sustainable, and beautiful design can be 100% eco-friendly and can leave you smiling," says Felix Bock, Founder, and CEO of ChopValue.
With its sleek lines, minimalist and space-saving design, the SMĪLE shelving system is timeless and designed to tastefully fit any interior. Each SMĪLE is proudly made from recycled chopsticks and construction steel, urban harvested from restaurants and construction sites near you. This not only minimizes the damage to the environment by reducing global shipping, but it also adds value directly back to the community.
This global network of carbon-negative microfactories means every SMĪLE has a positive impact on the environment. Each SMĪLE stores about 6,532g (14 lbs) of CO2 that otherwise would've been released into the atmosphere — more than it takes to gather the resources, make and deliver it! That's the equivalent of charging your cell phone over 830 times!
"We work to create a unique experience and an impact that will inspire people. By reutilizing used chopsticks, we promote forests' sustainable management and raise social awareness for environmental accountability," points out Felix.
To date, ChopValue has urban-harvested, recycled, and transformed over 25,786,890 chopsticks that otherwise would have ended up in the landfills.